Happy November! Our annual Customer Appreciation Tent Sale is approaching and is scheduled for Saturday, December 16th from 8am – 6pm! Make sure to save the date to cash in on the deals of the year as we will be offering more deals than ever. Reps and pro staff members will be on hand from Penn, Shimano, Daiwa, Tsunami, Van Staal, FishBites, No Live Bait Needed, Thumper Shrimp, Rapala & More to answer any questions you may have. This is the perfect opportunity to pick out Christmas gifts, get your first rod and reel combo or even outfit a boat with opportunities to save hundreds! You will find savings from your favorite brands on rods, reels, combos, lures, tackle, tools, tackle bags, beach carts, coolers and more, there will definitely be something for everyone! As always with a purchase of $100, you will receive a limited edition Snook Nook event shirt and with every $100 spent you will receive a raffle ticket to enter to win thousands of dollars worth of prizes ranging from fishing charters to combos to gift cards and more! Stay tuned for more details, deal lists and rep announcements as we get closer to the big day. Follow along with us on Facebook or Instagram, @thesnooknook for the latest updates. Looking forward to seeing you all there!
Inshore Fishing Report
Our mullet run is coming to an end here on the Treasure Coast as we are seeing fewer and fewer schools of them inshore. We will begin to transfer into our fall and early winter bite as the water temperatures begin to cool down a bit which can be really good for the fishing. The fish will tend to feed a little bit more and you will get more opportunities at getting on a bite throughout the day with the cooler temperatures. Those looking to target Snook and Tarpon will still have plenty of opportunities and we will begin to see more of our fall/winter species moving our way with each cool front such as Black Drum, Redfish, Sheepshead, Triple Tail, Croaker, Pompano, Spanish Mackerel and Bluefish.
Snook fishing has still been pretty good for us and as we are greeted with some cooler temperatures, they will begin to be more inclined to go after baits with a slower presentation such as a shrimp. If you are out early before the sun rises fishing the dock lights or out late at the causeway fishing the shadow lines, don't be afraid to tie on your favorite artificial shrimp and give it a few casts. Thumper Shrimp and Vudu Shrimp have been some of the go to choices lately. Slow rolling paddle tails and fishing jigs will work as well. On the warm days and as the sun gets a bit higher on the cooler days, they will still be willing to feed on live bait with no hesitation such as Pilchards, Pinfish, Croaker, Mullet, etc. A good majority of the Snook have moved away from the inlet and can be found throughout both the Indian and St. Lucie River around structures such as docks, bridges, sea walls and mangroves. There have also been Snook caught by those fishing the flats north of the power plant and the numbers of fish in that area will continue to increase. Snook season is still open all month if you are looking to harvest a slot size fish between 28-32", the season closes on December 15th.
If you're looking to hook into a Tarpon, there have been some north of the Jensen Causeway around Nettles Island, around the Roosevelt Bridge with a few fish still showing up around the Jensen Causeway. Live mullet or crabs will get the job done for you on them!
A lot of anglers look forward to this time of year for our Sheepshead and Black Drum fishing. The Black Drum bite is starting to heat up around the bridges and at the power lines that go across the river from the power plant. You can fish live shrimp, pieces of shrimp or chunks of crab on a jighead or knocker rig to target them. The Sheepshead will typically be found in some of the same areas that you will find the Black Drum. Look for structure with heavy barnacle growth on them and you will typically find some Sheepshead crunching on those barnacles. The same baits and presentations will work for Sheepshead, but Fiddler Crabs are one of the best baits you can throw at them and we should have a steady supply of them throughout the season. Fishing the channel markers is also a great strategy to catch Sheepshead, Black Drum, Triple Tail, Croakers and more. Bouncing from channel marker to channel marker with a shrimp on a jig head can lead you to a variety of fish to put in the cooler and can be fun for everyone on board. Some channel markers also have debris that has gotten stuck around them such as lost crab traps that make for excellent structure to fish. While you're checking out the channel markers, don't be afraid to look at the crab trap buoys to see if you can spot some Triple Tail floating in the current.
Some Spanish Mackerel have begun showing up around the Jensen Causeway already, anglers have been catching them on small pilchards, shrimp and spoons. We can expect to see more showing up with more cold fronts and you will be able to find them inshore around the bridges and in the inlet. We typically get into our better numbers of Spanish Mackerel towards the end of the month and into December as you will see anglers heading to Pecks Lake to fish the schools of Mackerel there. Similar to the Mackerel, there have been a few Pompano showing up inshore but we will need more fronts to see larger numbers of them in the area. When they do show up, expect to see them caught in the inlet, Sailfish Flats and on the Jensen and Stuart Causeway relief bridges.
Offshore Fishing Report
We had a steady Mahi bite in October that ranged mainly from 150'-250' both north and south of the inlet. The majority of the fish were caught by those trolling ballyhoo which is typical this time of year as we start seeing trolling out performing live bait fishing with exception to those who are kite fishing with live baits. You will want to look for good conditions to troll along such as color changes, temperature changes, edges, debris or birds overhead as those who have been catching have been finding their fish in those areas. There have been a few Wahoo around so it's definitely a good idea to run a planer rod to see if anything is down a little deeper. We went out with Capt. Nick Cremasco on the DayMaker for a little fun fishing and came across some floating debris, we trolled past it several times without a bite on the surface, the only rod that got hit was the planer rod down deep which ended up producing a Wahoo. After a few more passes without a bite, we decided to drop a slow pitch jig down underneath the floating structure which resulted in a juvenile Wahoo that we released. While it may have only been a small one there, plenty of anglers have made their day by capitalizing on opportunities when they come across something like that offshore so don't be afraid to throw everything you have at them! Unfortunately for us we have been greeted with some high winds to close out the month preventing a lot of anglers from making it out there. Those Mahis should still be around once the winds lay down and hopefully some more have pushed in with it. Aside from Mahis, the Sailfish have been a bit scattered over the past few weeks ranging from 115'-350' but we should be seeing better numbers on them as we get into November with some cool fronts. A few Blackfin Tunas have been caught, some nicer sized fish in the 15-20lb class have been caught in 110'-180' while there have still been some football sized Tuna out at Pushbutton Hill.
On the bottom, the Vermillion Snapper bite has been pretty hot out at Pushbutton. A chicken rig with squid will get you the bite when you find them! The electric reels have been very popular for those who are looking to get their limits quick and explore other possibilities. We've got a full lineup of electrics in stock from Daiwa so come on down and hit us with any questions you may have if you are in the market for one! The Lane Snapper bite has been pretty good in 60'-70', a chicken rig with a squid or sardine will get the job done on them. There have still been some Mutton Snapper around in 70'-90', grunt plugs are still producing along with live baits. Some Red Grouper have been caught in 70'-110' on live baits and chicken rigs with squid.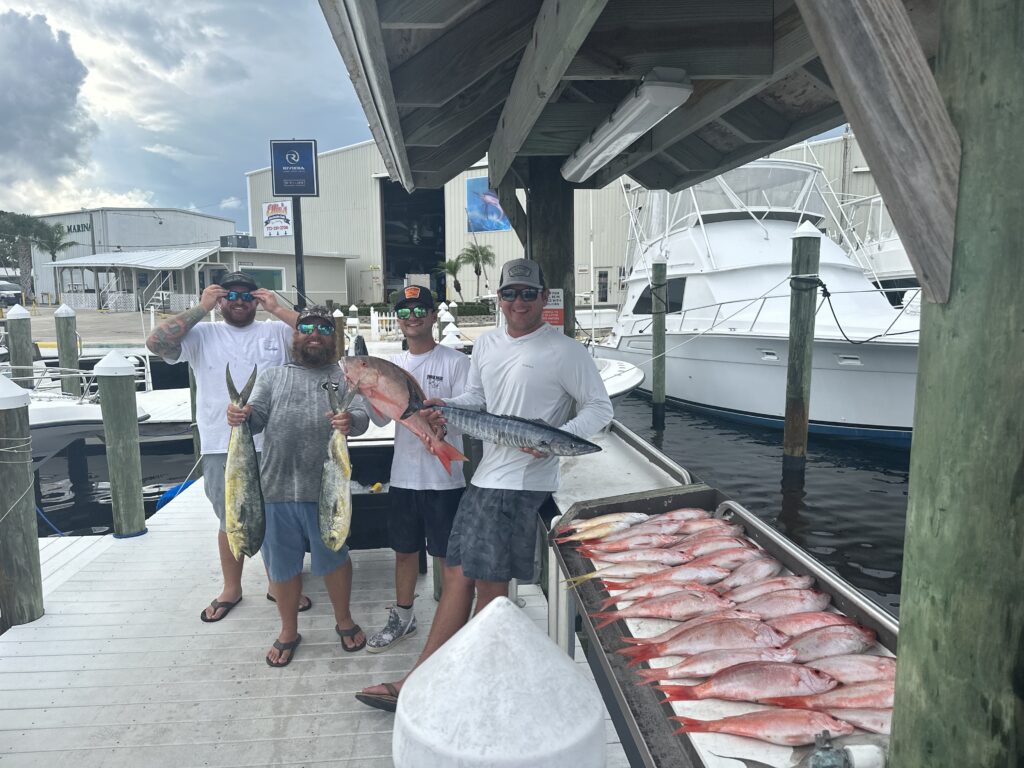 Surf Fishing Report
Unfortunately, the winds have kept anglers from fishing the surf to close out the month. Along our beaches when conditions have been fishable, anglers have been greeted with a lot of action, however the majority of that action has been undersized Pompano with a few keepers in the mix. A few Permits have been caught as well. Prior to the blow, there was a really good Pompano report to the north of us in Vero Beach with anglers steadily limiting out on keepers. Though those fish weren't caught off our local beaches, it is a sign of good things to come as some of the bigger fish are making their way south and we should start seeing better numbers of quality sized fish in our area as we get into November. Electric Chicken and EZ Flea FishBites have been producing the most bites and were the most popular flavors this time of the year last year. Anglers fishing natural bait such as sandfleas and clam have found success as well. The majority of the fish have been caught in the deeper troughs, so a long rod in the 11'-13' range paired with a long cast reel can truly add some distance to your cast and make a difference. We have the brand-new Penn Spinfisher VII long cast reels in stock and still have some of the previous model Spinfisher long casts in stock and on sale while supplies last. Our annual Snook Nook Tent Sale is coming up on December 16th, as always you will have the opportunity to cash in on some big savings from Penn if you are in the market for a new surf combo. You also can't forget about the buy 2 get 1 free FishBites tent sale promotion that is always a huge hit and provides a great opportunity to stock up on FishBites for the season. Be sure to stop by and chat with Brett and the FishBites crew at the tent sale! 
Lake Okeechobee Fishing Report – Capt. Angie Douthit
Lake O fishing for both bass and crappie has been exceptional providing great eating crappie to
take home and catch and release big bass. If you haven't experienced Okeechobee now is the
time to book your fun-filled, productive day on the water. I charter all ages, accommodate
group trips, offer deep hotel discounts as well as Veteran discounts, inquire at the time of
booking. Fishing for bass has been productive using artificial lures and live-bait, depends on
what my customers prefer and what's biting best at the time of the trip. I encourage customers
to ask questions about various fishing techniques, tackle used and etc., gaining knowledge is
key so it can be applied to fishing your home body of water. If you are bass fishing areas to try
are Cochran's pass against the hard wall and inside the pass against both hard lines. I've used
both live bait and artificial lures and had very productive days. Other areas along the Shoal can
be Whidden's pass and a few other spots as you work your way towards Cochran's (south); a
few areas in the Monkey box and Dupree bar for both bass and specks, Dyess ditch and a few
areas as you head north towards worm cove and on up to Indian Praire have been good fishing
as well. Due to high water levels over this past summer has left a lot of these areas with very
little vegetation just reeds and small islands, so don't be surprised that when you turn the
corner as you're heading to your fav spot and see nothing but open water where there once
was tons of vegetation. So Sad !!! Other areas to try are: tin house, Buckhead ridge going west
down to about 3 rd point has some activity as well as some parts of Kings Bar and Grassy. On the
east side a few areas around J & S lock (both sides) and Hendry creek are other areas to
expound on. The crappie bite is strong both open water minnow fishing as well as jig fishing in
the shallows. Areas to try for crappie are close to the bass areas mentioned above and fishing
the Kissimmee River and Government cut has been pretty good as well. Lures for bass are:
worms; chatter and swim baits; flipping creature-style baits; some top water action and spinner
baits. If you're fishing around the west-side stop by Big Water Bait and Tackle for all your tackle
and boating needs. To book a trip for bass or crappie call 863-228-7263, I do call back in a very
timely fashion and do have the time to answer all your questions and concerns ! My website is
up-to-date so check it out www.southfloridabassfishing.com I provide top of the line
equipment and run a new 2021 Caymas boat. My sponsors are: Toho Marine, St. Cloud,
Florida; Mercury Marine; BnM Poles; Mid-South Tackle; Real Magic; Gill Marine Wear; Bullet
Weights; Rapala; Gene Larew; Pradco Brands; Lews; G-Loomis; Navionics and Tru-Turn hooks.