Inshore Fishing Report
It's September 1st which means Snook season has reopened for our area! September not only brings us Snook season, it means we should begin to see signs of our annual fall mullet run. We haven't seen the big pods of mullet showing up quite yet, but the trend this year with bait has been that it has been showing up a few weeks later than years past so no need to panic. However we have begun to see some pods along Indian River Drive north of the Jensen Causeway in the mornings and there have been large pods of mullet in Cape Canaveral and north of there and all those baits will have to start moving south towards our waters. The Snook fishing has remained steady inshore, a lot of the fish have begun to move away from the inlet and have been caught at the causeways, underneath docks and on seawalls in both the St. Lucie and Indian River. When we get the schools of mullet, you will want to match the size profile of your bait whether it be an artificial or a live bait to the size of the baits being fed on. It can be quite frustrating at times if you are fishing a pod of mullet with Snook actively feeding on them due to the amount of bait around. One of the best techniques you can try out in these circumstances to make your bait stand out while maintaining a natural presentation would be to use a small float on your line. The float will provide enough resistance for your bait to slow it down and give it more of an injured presentation making it a much easier target to get hit. You can also fish a bait on the bottom with a lead or even a dead bait underneath a pod of mullet as a lot of times you will see Snook cleaning up on the bottom. You will have plenty of opportunities for an artificial bite throughout the day if you are able to stay with the bait pods. Top waters, swimbaits and jerkbaits are all great options. Fishing your lure on the edge of the bait pods can result in more bites as well. Fishing at night in the shadow lines at the causeways and in dock lights will present plenty of opportunities as the Snook will wait for the mullet to come into the light and ambush them.
Snook won't be the only target for anglers when the mullet run begins, plenty of guys will be out chasing Tarpon. We've had a really good Tarpon bite over the past month and we should expect that to continue. Anglers have been fishing outgoing tides around the causeways and in the crossroads free lining live crabs, mullet and throwing swimbaits to get the bite, don't be surprised if you hook into a big one as there have been plenty of triple digit fish around. Anglers fishing the Jensen Causeway at night have been on a steady juvenile Tarpon bite on live pilchards, crabs and shrimp. When the mullet schools are on the beach it's never a bad idea to grab your favorite swimbait and take a walk to try to hook into one! Along with the Tarpon and Snook, you will be greeted by plenty of Jacks inshore patrolling the seawalls and channels searching for schools of bait.
Aside from the upcoming mullet run action, we've had steady reports of Black Drum, Mangrove Snapper, Pompano, Spanish Mackerel and even Permit inshore. Some nice sized Drum have been caught at the Roosevelt Bridge along with a few picked off at the Jensen Causeway. Live crabs, fiddler crabs and chunks of crab on the bottom have produced the majority of the action however they will have a tough time passing up a shrimp too, you will just have to get through some bycatch. Mangrove Snapper have been caught around the bridges and on channel markers, live shrimp on the bottom or on a jighead will get you the most bites and you can try a small mullet, pinfish or pilchard on the bottom to weed out some of the smaller Snapper. We're still seeing some Pompano being caught by those jigging at the Jensen Causeway Mosquito Bridge. We typically don't have this kind of Pompano action there this time of year so anglers have been capitalizing on the opportunity to catch them. Along with the Pompano there have been Spanish Mackerel feeding on schools of glass minnows and small pilchards. You can free line pilchards, shrimp or throw spoons to get the bite. We've oddly enough had an inshore Permit bite at the Mosquito Bridge, these Permit have been caught by those fishing crappie jigs tipped with shrimp. We typically don't see this consistent of a Permit bite inshore so give it a shot while you've got the chance!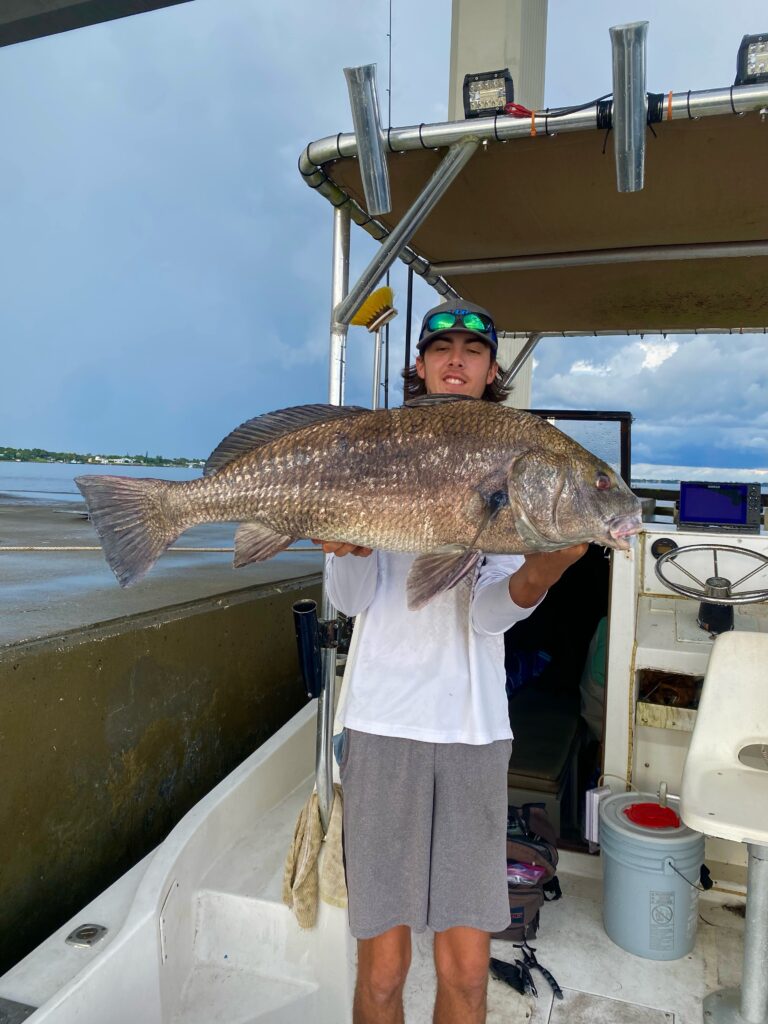 Offshore Fishing Report
The offshore surface bite has yielded Blackfin Tunas, Sailfish, a few scattered Mahi and plenty of Kingfish. There have been schools of Blackfin out at Pushbutton hill along with scattered Tunas inshore of the hill. If you're looking for them out at Pushbutton, you can troll small squid chains, feathers, fish live baits or jig for them to get the bite, both speed jigging and slow pitch jigging have produced. The sailfish have been scattered from 80' out to 260' over the past few weeks and your best bet will be to target them with live bait this time of year. If you're going out in search of Mahi, Sails or Tunas, it is best to cover some water before putting your lines in and fish areas with signs of life, current edges, color changes or temperature changes to put yourself in a better position. The Kingfish have been steadily caught in 60'-90' with some nice smoker kings in the mix. Our pelagic surface bite will continue to improve as we get into the fall. We've had a steady Permit bite at the boils offshore of the power plant on live crabs over the past month.
The bottom fishing has been productive with Mutton Snapper, Mangrove Snapper, Vermillions, Red Grouper and Jacks steadily coming back to the fillet tables. Muttons have been caught in the 70-90' range fishing long leaders with either grunt plugs or live bait. Mangroves have been caught in the 90' range on concrete structure on live baits. Some nice sized Vermillions have been caught at Pushbutton on chicken rigs with squid. Last September provided us with some excellent Red Grouper fishing so we definitely hope to see that trend again. Look to target them in 90'-140' on either live bait or chicken rigs with squid. They aren't too picky so they won't be afraid to hit a chicken rig, but you may have to go through some smaller ones along with some bycatch.
Surf Fishing Report
We had a solid Pompano bite on the south end of Hutchinson Island before we were greeted with the wind to close out the month. The majority of those fish were caught by those fishing the long rods in the deeper troughs on Powerlime Crab FishBites. Along with the Pompano there was still some Whiting action up in the first trough on pieces of shrimp and shrimp flavored FishBites. Once the water clears up we hope to see the same activity in the surf as you won't find great results for Pompano or Whiting in churned up water. The Sandfleas have been caught in really solid numbers if you're looking to stock up for our winter Pompano season. The upcoming mullet run will typically provide some excellent fishing off of our beaches when bait is present. The schools of mullet will be pushing south down the beach followed by Tarpon, Sharks, Snook, Jacks and more feeding on them. Bring your cast net or some artificials and be ready for a battle! 
Lake Okeechobee September/October Fishing Report – Capt. Angie Douthit
The current lake level has been around the 15.3 ft mark and water temperature is in the high
80's. While the water level is considered not low for this time of year still use extreme caution
when navigating and be courteous to your fellow boaters. The bass starting schooling on small
schools of shad in/around the grass edges/pockets. The size is perfectly suited for a 3/8 oz or
1/2 oz weight rattle trap in the popular color silver/blue back or white would be another good
choice. Double willow leave spinner baits with chartreuse/white skirts are producing as are
some top water lures such as spooks; chug bugs; bang o lures and a devils horse. Shad, bluegill
and white color patterns have been producing some exciting action. The senko and worm bite
has been producing bites all summer long in colors black/blue; tilapia; watermelon/red;
Junebug and redbug. Lots of popping frogs worked in/around lily pads; some grass edges and
pockets provide some fast, fun action as do the swim baits worked within the similar areas. The
bream are still being caught around the moon phases but not in heavy numbers like earlier at
the start of the spawn season but you can still catch your limit. Live red worms and crickets
rigged on ultra light spinning tackle are best. Crappie are still and have been being caught
mainly in the deeper water such as the River and Canal systems, the bite is slow but you can still
catch them jigging around 13-18ft depth around the bridge pilings and other deep water
structures. Areas to try for bass has been around Dyess Ditch; around Horse Island; some parts
of Indian Praire and Tin House; 4 th -2 nd points; Buckhead pole; some areas around Kings Bar;
some scattered areas over on the east around J & S canal and areas inside Grassy and a few
places in Eagle Bay. To book you're next fun filled, exciting family day fishing Lake Okeechobee
call 863-228-7263 or check out my website at www.southfloridabassfishing.com Now is the
time to book your upcoming trip of a lifetime and to see and experience the beautiful nature-
scenery only Okeechobee offers. I offer Veteran discounts and can accommodate group trips.
My sponsors are: Mercury Marine; Toho Marine; Bullet Weights; Gene Larew; Pradco brands;
Gill; Mid South Tackle; BnM Poles; Buff; Navionics; Tru-Turn; MegaStrike and Maui Jim.