Inshore Fishing Report
September provided our inshore anglers some steady mullet run action! We can expect to continue seeing schools of mullet pushing our way over the next few weeks as there have been reports of them as far north as Jacksonville. Some of the better fishing has been found early in the mornings and in the evenings/at night as the mullet schools have seemed to be more prevalent then. For those targeting Snook, the low light conditions will play to your advantage as the Snook will use the shadow lines from dock lights and bridges to ambush the mullet that are pushing through. Making your bait stand out in the school is key to getting the bite when the bait is prevalent, many anglers will prefer artificials such as paddle tails, jerk baits and top waters depending on the situation that you are fishing. Some of the most popular artificials we have been selling this month have included; NLBN paddle tails, NLBN Lil Mullets and Mini Mullets, 3" DOA CALs, Hogy Pro Tail Paddle Tails, Yozuri Crystal Minnows, Fingerlings and Top Knock Pencils, Rapala Xraps and Bomber Windcheaters. If you're into fly fishing, the dock lights this time of year will provide you plenty of opportunities. If you do prefer fishing a live mullet, adding a small cork to slow the bait down or trimming the tail fins will give your bait a more injured presentation making an easier snack for the fish. For those Snook fishing inshore during the day, there has still been plenty of action. Locating schools of bait in areas such as canals, on seawalls, along mangrove lines or near any ambush point or structure will be keys to your success. This is one of the best times of year to fish the sea walls even if you aren't seeing any bait around. Larger mullet in the 6-10" range are one of the best bait choices if you're hunting for big Snook. You will want to keep that mullet tight to the seawall for the Snook as when the bait comes off the wall a few feet you will start running into more Jacks. For those fishing docks, anglers have been finding success with Bunkers, Pilchards, Pinfish, Pig Fish, Croakers and Mullet. If you can get your hands on pins, pigs or Croakers anglers have been finding success around the causeways fishing the bridge fenders.
We've had a steady Tarpon bite over the past month! Those fishing for them around the Jensen, Stuart and Roosevelt causeways on outgoing tides have been able to pick a few of them off on larger mullet and crabs. Fishing mullet heads is also an extremely effective method for some of the lazier fish. The crossroads and North Fork have yielded encounters with the Silver King as well by those fishing those larger mullet. We typically see a consistent Tarpon bite this time of year towards the power plant. A lot of times the feeding window may be short and is typically right at sunrise and sunset but at times it does last longer.
Anglers fishing the flats and mangroves around the power plant and north have run into a few redfish and trout. Pitching artificials such as small paddle tails and shrimp into pockets in the mangrove lines is an excellent way to target them. A few flounder have been caught by those fishing shrimp on a jighead and live mullet. A few Black Drums and Sheepshead have begun to make an appearance at the Jensen and Roosevelt Causeways by those fishing shrimp, fiddler crabs and chunks of blue crabs. As we begin to get some cool fronts and north winds we will begin to see more of them showing up inshore as we get into the fall. Those cool fronts will also bring along Croakers, Spanish Mackerel, Pompano and Bluefish. October always brings us a nice variety of opportunities inshore with the mullet run and early signs of some of our migratory fall/winter fish!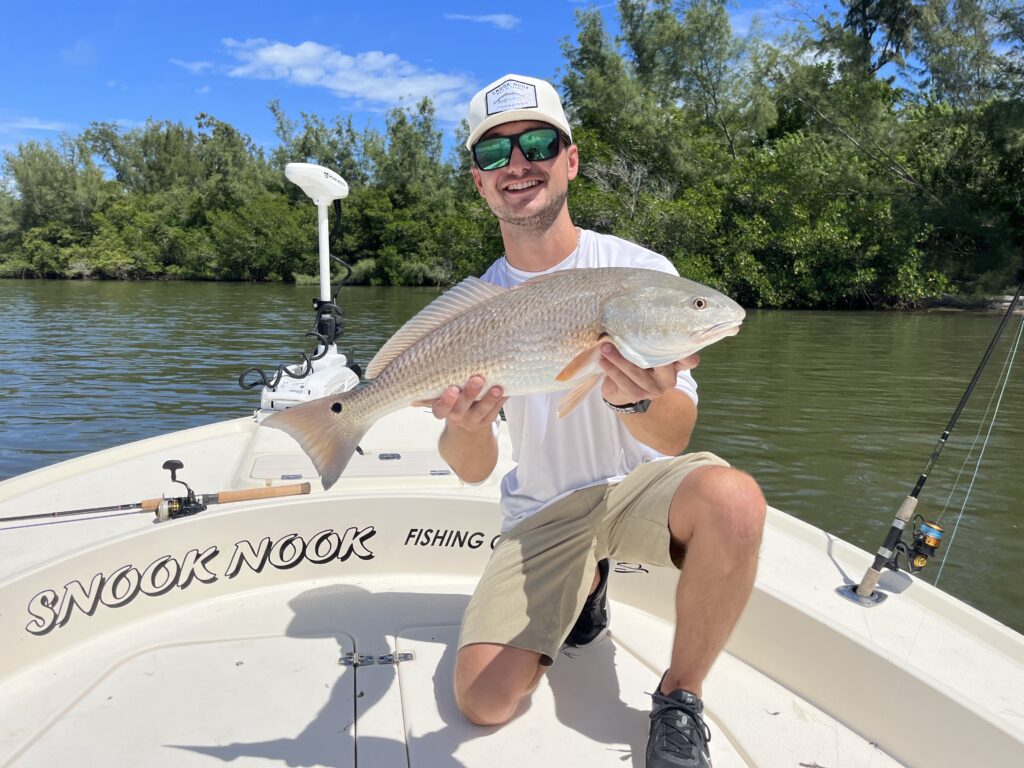 Offshore Fishing Report
Luckily for us the tropics have been very nice to us this year as the hurricanes were quite busy in the Atlantic during September. We didn't get hit by any storms, but they were close enough to send us some nice swells and a lot of unfishable days offshore. However those who have been able to make it offshore in between weather windows have been greeted with some pretty good fishing. The swells typically make the bite pretty scattered and Mahi have been caught from 60' out to 400' over the past two weeks and there have been some nice sized gaffers out there. Along with the Mahi, there has been some sailfish and Blackfin Tuna action scattered between 140'- 240'. The majority of the fish have been caught by those trolling as of lately, but if you can get your hands on some live baits and throw the kites up that will definitely get the job done as well. When the bite is spread out like this, it is a great idea to run and gun looking for favorable conditions before putting your lines in. Those conditions may be a nice edge, a color change, a water temperature change, signs of life such as bait or birds or any structure that you may come across. We've seen a few Wahoo around and our October Wahoo bite is typically pretty good around the full moon which is towards the end of the month on the 28th. Hopefully we can have some favorable conditions for that! Kingfish have still been caught in the 60'-90' range by those trolling and fishing dead baits. There have been some more Blackfin Tuna action out at Pushbutton Hill, a lot of the fish out there have been some of the smaller 'football sized' Tunas. You can catch them trolling small squid chains and feathers or by jigging if you see them down below the surface on your depth finder. On the bottom the Mangrove and Mutton Snapper bite has been pretty good in 60'-90'. Along with them there have been some Red Grouper, Triggerfish, Sea Bass and a variety of different reef fish making it back to the fillet tables. There have been plenty of Vermillion Snapper for those out at Pushbutton Hill too.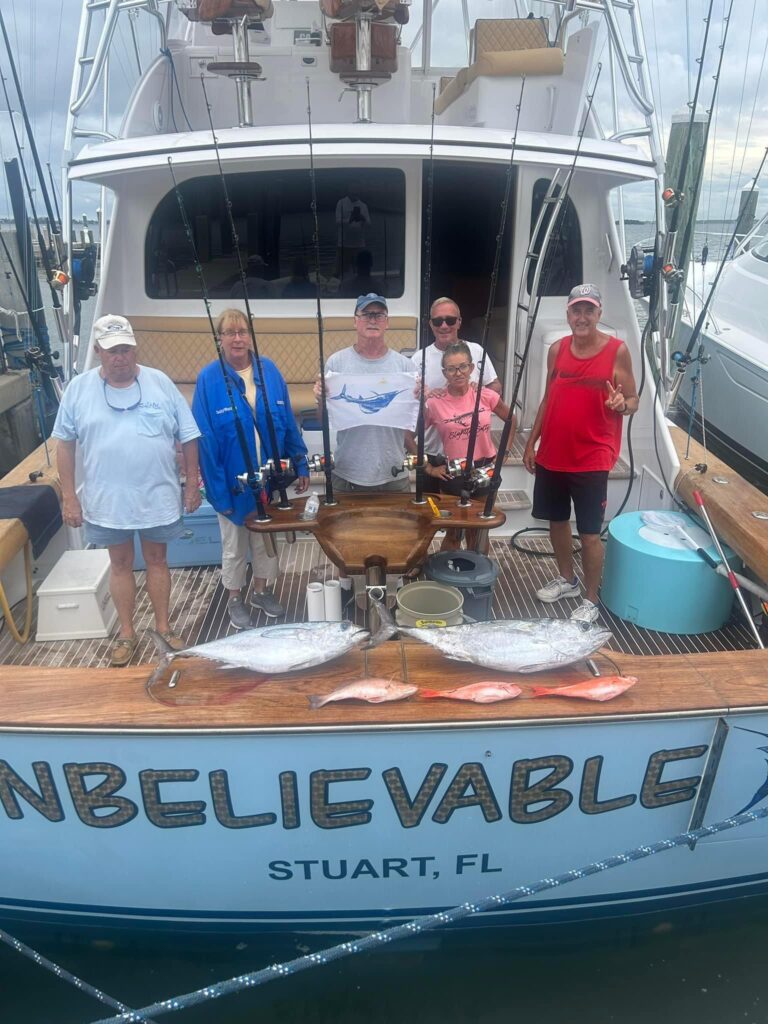 Surf Fishing Report
The swells really haven't helped out those looking to hit the beach over the past few weeks. Even on calm days we have still been dealing with some dirty sandy water from all the waves that definitely puts a hurting on our surf fishing. Prior to the swells, we had a lot of mullet working their ways down the beach that were being fed on by Tarpon, Snook, Jacks, Sharks and more. We knew the Tarpon fishing on the beach had to be hot when anglers were rushing in with empty reels and sandy feet needing their reels to be spooled back up! We should still be seeing some mullet showing up on the beach as the ocean settles down throughout the next couple of weeks which should open some of that action back up. Aside from the mullet run surf fishing, we should begin to start seeing some early signs of Pompano showing up over the next couple weeks if we can get some cool fronts. Prior to the swell a lot of juvenile Pompano were being caught off our beaches and off the beaches north of us in Sebastian and Daytona which will all begin moving our way. 
Lake Okeechobee Fishing Report – Capt. Angie Douthit
The current lake level 15.82 ft and water temps have been ranging from low 80's in the morning
then rising to mid/high 80's as the day progresses. While the water level is considered high for
this time of year still use caution when navigating the lake and be courteous to your fellow
boaters. The bass are schooling at various times throughout the day, they don't school long and
are feeding on small shad in/around the grass edges/pockets and certain open water areas.
The size is perfectly suited for a 3/8 oz or 1/2 oz weight rattle trap in the popular color
silver/blue back or white would be another good choice. Double willow leave spinner baits with
chartreuse/white skirts are producing as are some top water lures such as spooks; chug bugs;
bang o lures and a devils horse. The senko and worm bite has been producing all summer long
in colors black/blue; tilapia; watermelon/red; Junebug and redbug. Lots of popping frogs
worked in/around lily pads; some grass edges and pockets provide some fast, fun action as do
the swim baits worked within the similar areas. The bream are still being caught around the
moon phases but not in heavy numbers like earlier at the start of the spawn season but you can
still catch your limit if the afternoon thunderstorms don't chase you off the lake or the hot
afternoon heat. Live red worms and crickets rigged on ultra light spinning tackle are best for the
bream. Crappie are still and have been being caught mainly in the deeper water areas such as
the River and Canal systems, the bite is slow but you can still catch them jigging around 13-18ft
around bridge pilings and other deep water structures. Areas to try for bass has been around
Dyess Ditch; around Horse Island; some parts of Indian Praire and Tin House; 4 th -2 nd points;
Buckhead pole; some areas around Kings Bar; some scattered areas over on the east around J &
S canal and areas inside Grassy and a few places in Eagle Bay. To book your next fun filled,
exciting family day fishing Lake Okeechobee call 863-228-7263 or check out my website at
www.southfloridabassfishing.com Now is the time to book your upcoming trip of a lifetime and
to see and experience the beautiful nature-scenery only Okeechobee offers. I offer Veteran
discounts and can accommodate group trips. My sponsors are: Mercury Marine; Toho Marine;
Bullet Weights; Gene Larew; Pradco brands; Gill; Mid South Tackle; BnM Poles; Buff; Navionics;
Tru-Turn; MegaStrike and Maui Jim.