Offshore Fishing Report
May was definitely our best month of the year for anglers heading out of our inlet both on the surface and on the bottom. We've seen a lot of Mahi caught, ranging in depths of 65' all the way out to 900' by anglers trolling, kite fishing and drifting live baits. Kite fishing is an extremely effective way to fish as you are able to fish more rods and cover more water while providing an excellent presentation. The most consistent reports have been mainly in 120'-160'. When you're heading out, look for signs of life before putting your lines in such as weedlines, current edges, temperature changes, color changes, birds overhead and debris to improve your chances of hooking up. We've seen a few bigger Mahi making their way back to the fillet tables as well. If you find yourself in a school of smaller Mahi don't be surprised to see a big bull or cow mixed in with them. There have been a lot of Sailfish caught in the same range mainly caught on live baits along with some Blackfin Tuna. Our summer Sailfish bite has been pretty impressive the past few years and it is looking like it will be another great year! There have been some Blackfins out at Pushbutton Hill as well, mainly caught by anglers jigging either with slow pitch jigs or speed jigs. There have been plenty of Kingfish around ranging from 60'-90' along with some in shallower caught by anglers running the beach. Bait has been a bit tricky out front, it has been pretty scattered but we should begin seeing more bait showing up at some of the local bait spots such as Bullshark Barge as we get into the month. Stuart Live Bait has been in the Manatee Pocket pretty consistently with bait in the mornings so it isn't a bad idea to grab a dozen or two before heading out, you can call or text Bryan at 772-985-0425 to reserve.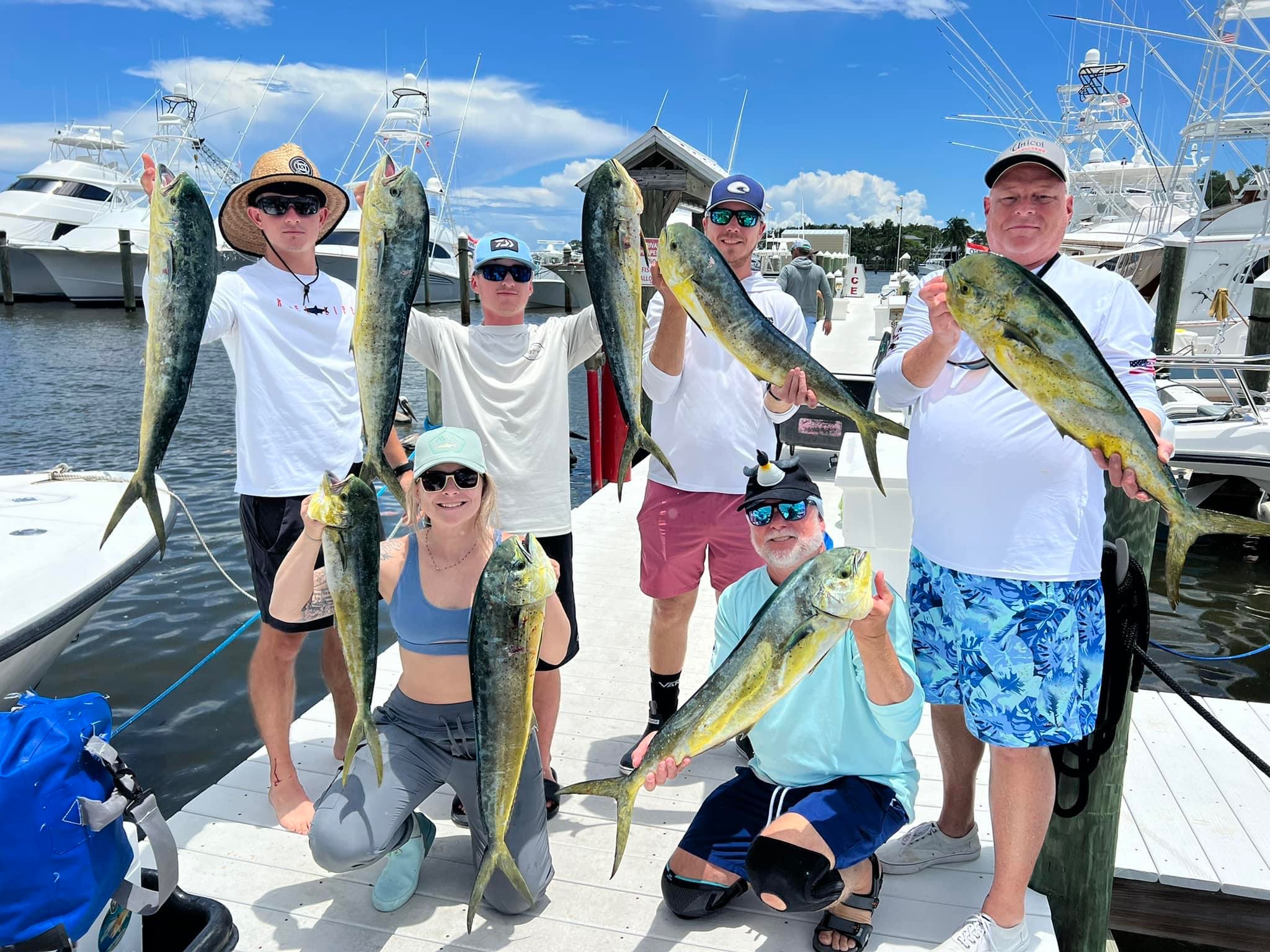 On the bottom, the Mutton Snapper fishing has been good in the 70'-90' range. There have been steady reports of Muttons caught at the Loran Tower and they should continue to bite throughout the summer. You will want to fish a long leader, typically about 40' of 40lb and enough lead to hold the bottom as they do get line shy. Live baits along with larger dead baits such as grunt plugs, butterflied Ballyhoo and Bonito strips are some of the go to choices. Fishing a larger dead bait is very effective because it allows you to keep bait on your hook while the "pickers" such as grunts and smaller reef fish pick away at your bait. Those fish picking at the bait will also get the Mutton's attention and they will come over to check out what they are feeding on and will eat the bait. The Mangrove Snapper bite has been good and will continue to heat up as we get closer to July. Fishing live pilchards on the bottom will give you a good opportunity of hooking up. You will find them on a majority of the local wrecks and reefs. There have also been some nice sized Vermillion Snapper out at Pushbutton Hill. Fishing a chicken rig with squid will get you the bite. Grouper fishing has been productive as well as we have been seeing catches of Gag, Black, Scamp, Red and Snowy Grouper. Other species making the catch list on the bottom have included Amberjacks, Almaco Jacks and Triggerfish.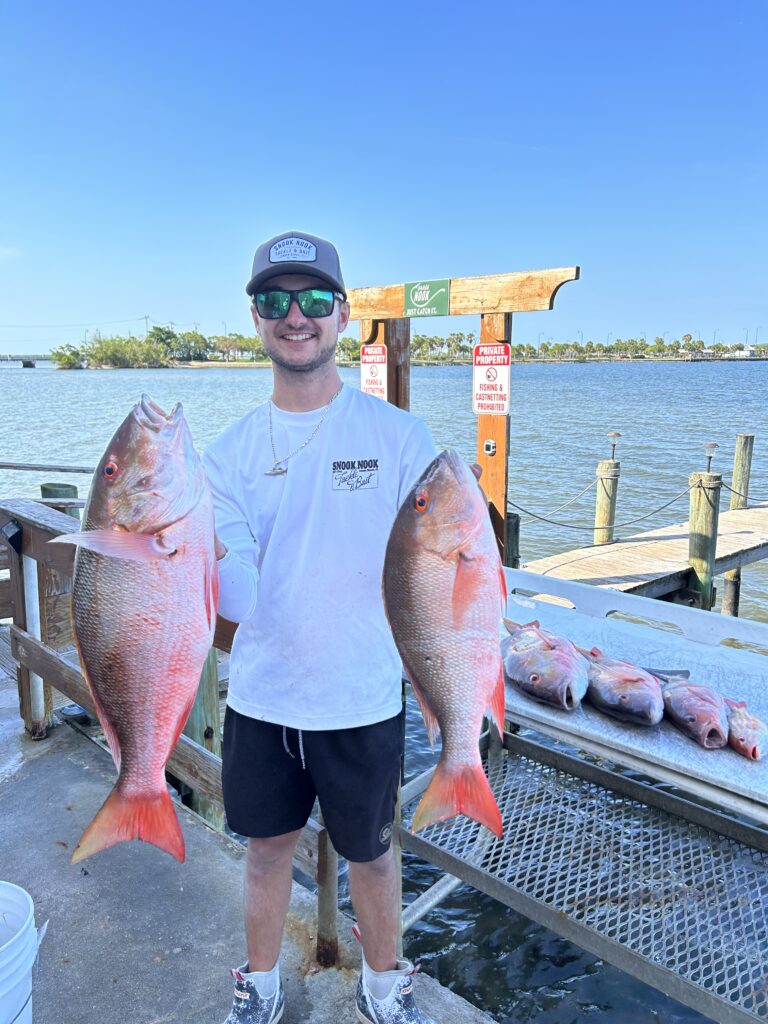 Inshore Fishing Report
Summertime Snook fishing has kicked off for us here on the Treasure Coast! As a reminder Snook season just closed in our area and will reopen again on September 1st. June provides us with some of the best Snook fishing of the year. Not only do we see a lot of fish caught, we see a lot of trophy sized Snook caught. If you're looking to knock a 40" Snook off your bucket list, you've got a good shot at it! Please remember to handle these breeder Snook with care as they will be providing us with our Snook population for years to come. Fishing circle hooks, limiting their time out of the water along with reviving them if necessary are all crucial to a strong release of the fish. For our anglers on boats, we are starting to see some of the breeder fish being caught in the St. Lucie Inlet as well as Snook schooling up around the inlet. You can also head out the inlet and fish some of the nearshore reefs as the Snook will school up there as well. Fishing live baits such as Croakers or Pilchards will give you your best shot at the fish there. Fishing around docks and the causeway fenders will produce some fish as well. Keep in mind that on hot summer afternoons these fish will stay in areas with deeper water, shade or moving current to keep themselves cool which makes the inlet, bridges and deeper water docks all good options to fish in the afternoons. For our land based anglers, the Jensen Causeway, Ft. Pierce Inlet and beaches are all good options if you're targeting Snook. The Jensen Causeway has been best in the evening and at night as there has been a good amount of bait that has been pushing through including shrimp, crabs and pilchards that the Snook have been keyed in on. You can free line crabs, fish a shrimp on a jig head or freelined or free line bait fish if you're looking to fish with live bait. If you're looking to throw artificials, artificial shrimp, paddle tails and jerkbaits have all been productive. If you're hitting Ft. Pierce Inlet, live Croakers will be tough to beat! You can also expect to find some Snook on the beaches, white paddle tails in the mornings and evenings are great options as well as live baits. If you're hitting the beach, it isn't a bad idea to have a rod rigged with a sabiki in case any bait pushes through.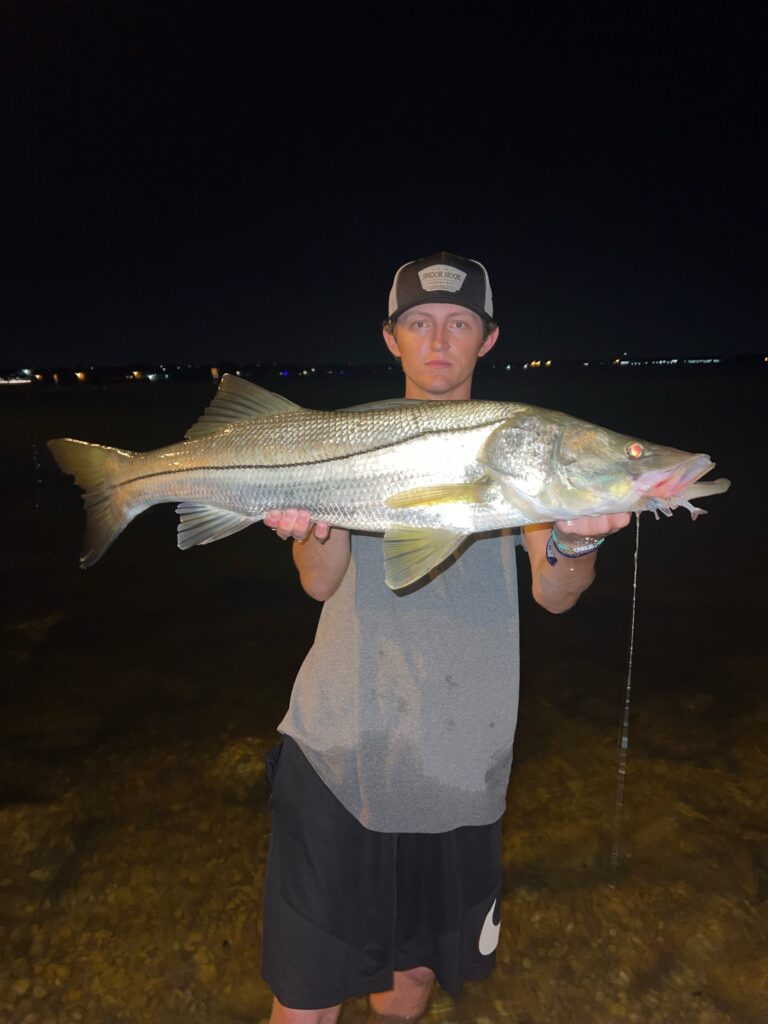 Tarpon fishing has been on the rise for us as well. Fishing the causeways on outgoing tides will be the best time to target them as they have been eating the crabs that are pushing through. The majority of the reports as of late have been coming from the Jensen and Stuart causeways. You can also look to target them in the crossroads as well as in the inlet. If you want to throw artificials, the Hogy Slow Tail swimbait as well as NLBNs are great options.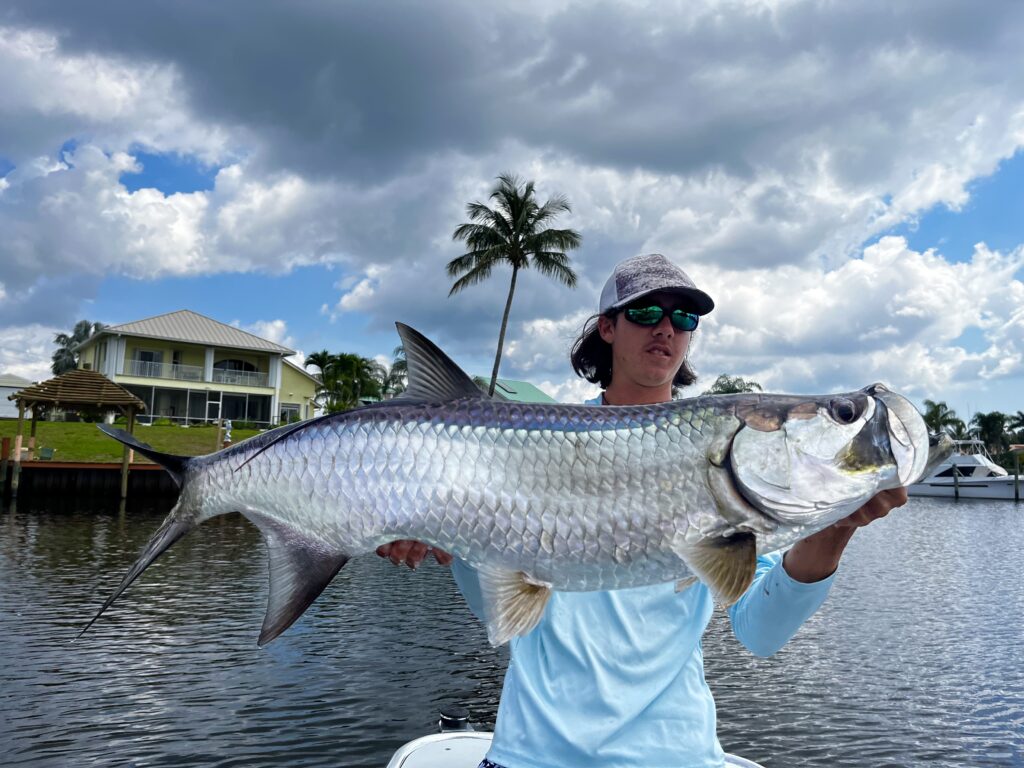 Other than Snook and Tarpon, there have been plenty of big Jacks cruising the sea walls, a few Redfish caught at Stuart Causeway, some Trout caught in the mornings on the flats north of the power plant, some Sheepshead on the channel markers and plenty of Mangrove Snapper throughout the river hanging around structure. We get some nice sized Mangroves in the river this time of year which can be fun for the whole family. To weed out some of the smaller ones, you can try fishing with smaller baitfish to get a few for dinner.
Surf Fishing Report
The Pompano fishing has slowed down as the majority of fish have migrated back up north. A few Pompano are still making their way to the coolers but the production has definitely slowed down and will continue to drop off until late fall. We have also been dealing with a good amount of seaweed on the beaches which will limit anglers when it is present. You will definitely want to check the beach for seaweed conditions before hauling your gear out. Anglers fishing the long rods have been able to find some Permit recently when conditions have permitted, they are a true tackle tester on the beach and will take you for a run! White Crab, Yellow Crab and EZ Flea FishBites have been the popular flavors for the Permit. The Whiting and Croaker fishing will continue to improve as we get into the summer. A good majority of them will be found right up in the first trough so you don't want to over cast. Pieces of shrimp along with Bloodworm or shrimp flavored FishBites will get the job done. We are starting to see some Snook show up off the beaches and we will continue to see more throughout the month as they move onto the beaches for their annual spawn. If you are looking to throw artificials, white paddle tails and jerkbaits such as the Yozuri Crystal Minnow, Fingerling or Rapala Xrap in the mornings and evenings are some of the best options. As the sun gets higher, the artificial bite typically slows down and you will find more production fishing live Pilchards or Croakers. As mentioned previously, it isn't a bad idea to have a rod rigged with a sabiki in case any bait pushes through. If you are fishing for Whiting or Croaker and catch a small one, try flipping it back out free lined and get ready for a thump! You may run into some Jacks on the beach when bait is present as well.  
Lake Okeechobee Fishing Report – Capt. Angie Douthit
The lake has been fishing well for both bass and bream. Early morning timeframe is best to
beat the heat and afternoon rains and thunderstorms. Live bait and artificial lures have been
catching some nice quality bass. For the lure bite, popping frogs, swim baits, slowly working
top water lures, worms, senkos and swim jigs in colors white; Junebug; red shad; watermelon
red; tilapia and black. Fishing with live-shiners on a free line tipped with just a pegged bobber
has been producing some great fast action around the bluegill beds. For bluegill fishing, both
live red worms and crickets have been producing limits but I prefer fishing with crickets vs.
worms only because I seem to catch less catfish; gar and etc. If you're targeting shell crackers I
use both crickets and worms but the key to getting them to bite quicker is to hook the worm so
that both ends wiggle and catching them when the moon phase is just right. Areas on the west
and north side has been the areas to fish, the water may be to stained on the outside/middle
areas so try the middle to inside areas where you'll find the break in the color line, that is a
good starting point then work some inside key areas then on out in some key areas like Lilly
pads mixed with Kissimmee grass or reeds. When looking for bream they like a sandier type
bottom and shell crackers prefer a harder bottom area such as shell rock. Areas to try are
certain areas of the shoal; south/west sides of Dupree Bar; some areas in the Monkey Box;
edges leading into the Monkey Box; around some of the islands on the west side of the Monkey
Box; Harney Pond Canal; Dyess Ditch; Worm Cove; Horse Island; parts of Indian Prairie; parts of
Tin House; 2 nd -4 th points and a few scattered areas on Kings Bar and some areas around Grassy.
The Kissimmee River is producing both bass and bream bites and Crappie is still being caught
early around the bridge pilings and on out towards the mouth of the River. I hope this
information helps you to have a better more productive day on the water. To book your next
fun-filled productive day fishing the big O call me at 863-228-7263. I have a new Caymas bass
boat this is fully rigged, top of the line rods/reels, all artificial lures we'll need for your next fun
day on the water. Check out my website www.southfloridabassfishing.com for past fishing
reports, hotel recommendations and discount on rooms, up-to-date pictures of customers and
their catches, toll free number to purchase your fishing license, guide rates and etc. My
sponsors include: Toho Marine (St. Cloud Florida); Mercury Marine; G-Loomis; Bullet Weights;
Gene Larew; Real Magic; Lews; Maui Jim; Rapala; Gill; Tru-Turn hooks; Trilene; BnM Poles; Mid
South Tackle and Navionics.