Inshore Fishing Report
Our inshore fishing is starting to heat up! We are beginning to get into the best time of the year for Snook fishing as they prepare for the summer spawn. Not only do we have a chance to catch a good number of fish, this is the time of year where you tend to see a lot of the bigger breeder Snook caught. When you are targeting these fish, please remember to treat them with care when caught as they will be providing us with our future Snook population. Using circle hooks and reducing their time out of the water are helpful to ensure a strong release of the fish. Snook season remains open until June 1st if you are still looking to harvest a slot. A lot of Snook are starting to move around and are starting to stack up around the bridges as they inch their way closer to the inlet. As we get into May, you should start finding them in better numbers in the inlet and areas around the inlet such as Hole in the Wall. You will still be able to find them throughout the St. Lucie and Indian Rivers as we approach the spawn and throughout the summer, but a good majority of them will work their way to the inlets at some point. Anglers will find a lot of success live baiting for them this time of year with either Pilchards, Mullet, Croakers or Mojarra. If you are looking for Pilchards, Bryan with Stuart Live Bait has been on the boat in Manatee Pocket about every morning with them, give him a call at 772-985-0425 to reserve your baits. There have been some Pilchards scattered throughout the river as well if you are looking to net your own baits. The Croakers have been a bit elusive for our bait guys so far this year, but rest assured as soon as they are able to find them, we will have them in stock. They typically show up in better numbers in May so they should be coming soon! With the temperatures heating up, if you are planning on fishing in the afternoon or later in the morning, try to fish in areas with either deeper water, flowing current or shaded areas as the Snook will head to these areas as the water heats up. If you are looking to fish artificials, mornings, evenings and at night will be your best bet. The water has been pretty clear inshore as of late and a lot of anglers have been finding success on white paddle tails. There has been a steady flow of shrimp underneath the Jensen Causeway on the outgoing tide so artificial shrimp such as the Thumper Shrimp and Vudu Shrimp have been very popular options. Dock light fishing has been productive as well, along with Snook we have been seeing some Trout that have been caught in the lights.
The Pompano fishing at the Jensen Causeway has been really good throughout the month of April. There have been a few days where the fish haven't been there and other days where anglers are getting their limits in under an hour. A lot of the Pompano have been caught directly at your feet up to 10ft away from the bridge so be sure to work your jig through that zone. Overall April provided us with our best inshore Pompano fishing of the year. We saw the same trend last year and that action last year did continue into May for us so we can hope that these Pompano will stick around with us for a little bit longer. We are still hearing reports of Pompano caught south of us and those schools will have to pass by us on their way north. Popular jig colors have consisted of chartreuse with a pink teaser, pink with a chartreuse teaser, chartreuse/orange jigs and chartreuse/pink jigs with a pink or chartreuse teaser. You will want to have an assortment of different weights with you depending on the wind and current to ensure you are offering them the best presentation you can. Along with the Pompano, bycatch has consisted of Spanish Mackerel, Croaker, Jacks and lady fish on the Pompano jigs. A few anglers have gotten into some Pompano wading on the flats as well, they have been catching them on artificial shrimp and paddle tails.
For those looking to target Tarpon, we have started seeing more of them showing up here inshore. There have been some smaller fish in the 30-40lb class around some of the docks in the St. Lucie, some in the same range and larger in the North Fork and some around the inlet and causeways. Fishing live crabs or mullet will be your best options if you are targeting them and the outgoing tide has been more productive. We still haven't reached our best Tarpon time but we should see more showing up here in May.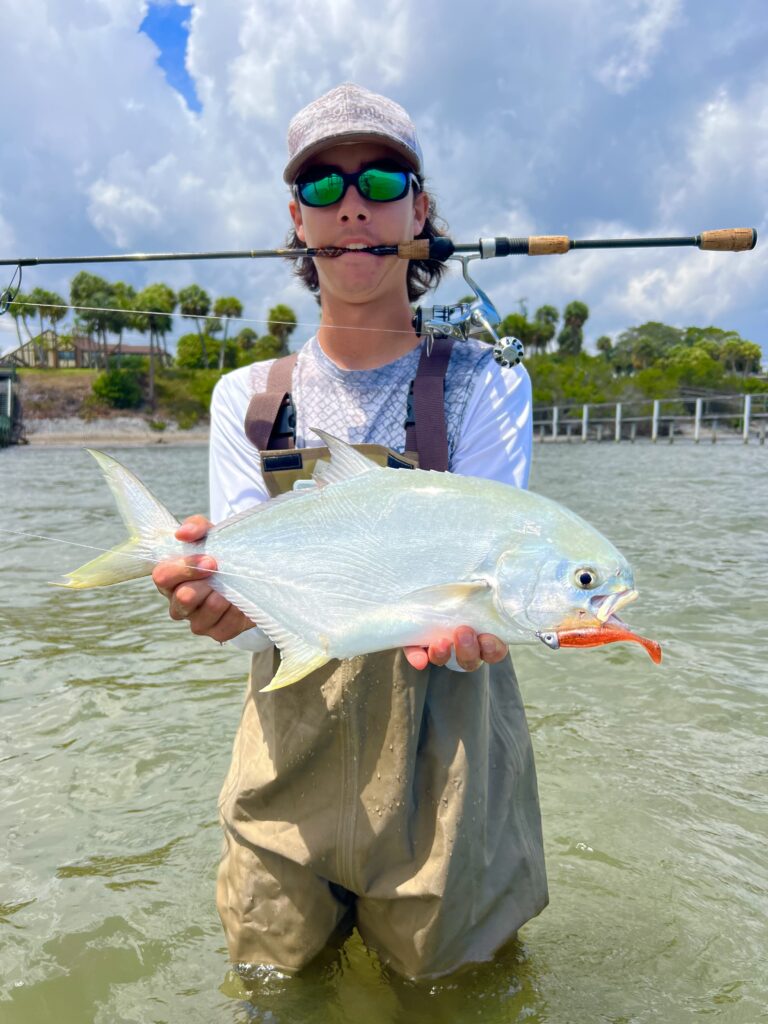 Offshore Fishing Report
This is the time of year that the Mahi will begin their spring run. Look for weedlines and floating structure as they may be holding a school of them. Anglers have been finding some Mahi in 160'-180' as of late. We haven't seen a lot of the larger schools of big fish yet, a lot of the schools have been undersized fish. The Mahi that have been making it back to the docks have been coming in pairs or small packs in the 15-20lb class. It isn't a bad idea to keep a planer down around all the smaller Mahi as there have been a few Wahoo around. If you aren't finding what you are looking for inside of 200', don't be afraid to run to deeper water in 600'-700' to find the schools on some of the deeper weedlines. Over the next few weeks, schools should become more prevalent. Keep a pitch rod ready with either a bucktail jig or rigged with a hook ready for cut bait. If you get into a school, keep one fish in the water to keep the school around.
Sails and Kings have been frequenting the wrecks and reefs out front of our inlet in 90'-110' and to the south of us around the Loran Tower. A lot of school sized Kings have been around but we have seen some up to 50lbs caught recently.
The bottom fishing was pretty good throughout April, but has slowed down over the past few days due partially to a touch of south current. As the current switches back to the north, look for the bottom fishing to turn back on again. Mutton Snapper has been the main target with Mangroves and Lanes in the mix. Grouper season reopens May 1st, remember to have a descending device or venting tool on board as it is required when bottom fishing in state waters. Fishing big cut baits, whole squids and larger live baits will weed out a lot of the smaller fish and isolate your catches to mainly Grouper and Amberjacks. You will want to fish heavy tackle to get these fish off the bottom, 80-125lb leader, heavy line, plenty of drag and leads heavy enough to keep your bait pinned to the bottom will help find the result that you are looking for. Don't bring a knife to a gunfight when targeting Grouper! Methods such as slow pitch jigging are also extremely effective.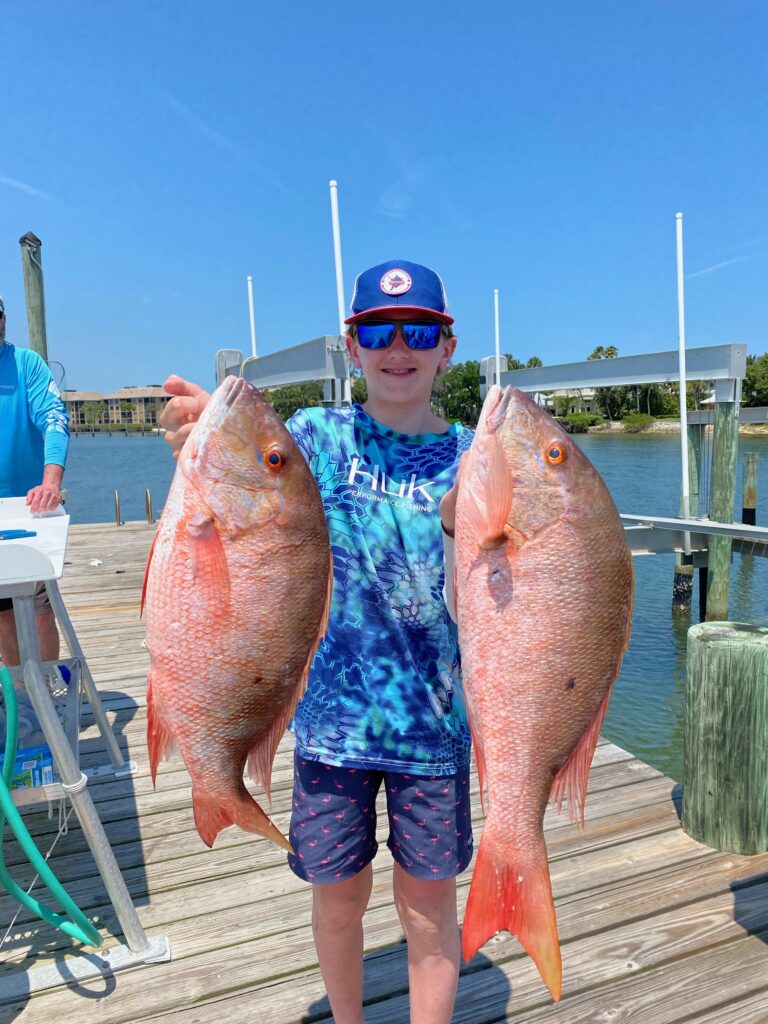 Surf Fishing Report
We've still had some Pompano action happening on our beaches. As mentioned in the inshore section, there have still been reports of schools of fish caught south of us as well that will need to head our way. We've been getting solid reports from our southern beaches such as Hobe Sound producing limits of Pompano and scattered reports from some of our more local beaches. The fish being caught have varied from 60-100yds off the beach so if you are fishing multiple rods, it would be wise to vary your casting distances. The hot baits have been FishBites EZ Flea, Powerline Crab and Electric Chicken Crab. This is the time of year where we start seeing weeds on the beaches more frequently so it is also wise to check the beach before you set up all your equipment. Luckily we have plenty of public beach accesses so you are able to check out different beaches to see the conditions.
The Whiting and Croaker should start showing up in the first trough soon, we typically see better numbers of them by the second to third week of May. It is crucial to not overcast when targeting them as they are typically right off the beach. Pieces of shrimp, shrimp FishBites or bloodworm FishBites are going to be your best bait options.
Along with the Whiting and Croaker, we should start seeing more Snook and Tarpon on the beaches by the end of the month. Anglers have begun to see some Tarpon rolling off the beaches already and some Snook have been caught as well. You will see a lot of anglers will have a spare rod rigged up with a sabiki rig in case any pilchards push through, they will free line the pilchards for the Snook. If you catch a smaller Whiting or Croaker, you can use that as bait and big Snook have a tough time passing them up!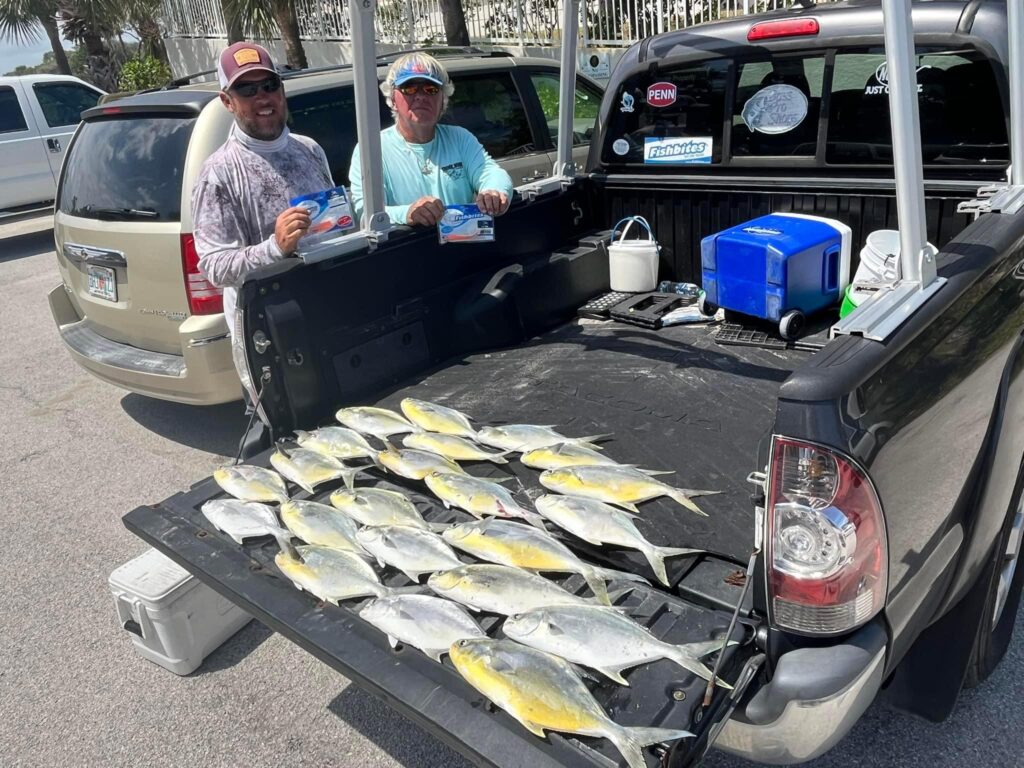 Lake Okeechobee Fishing Report – Capt. Angie Douthit
Lake Okeechobee's current water level is just under 14 ft., summer rainfall and the possibility
of tropical storms could bring up the level up but if I were a betting person I would say mid-
summer could see levels 12-12 ½ ft., which is great for new emergent vegetation. Some
customers who call are asking about catching crappie when booking a trip, crappie can still be
caught in areas such as the River, Canals and a few parts on the lake like the outside vegetation
line in Tin house and a few areas on the Shoal area, the bite can be slow but specks can still be
caught. If you're wanting some faster action, the bream and bass are biting great, record
number catch weights for bass tournaments were shattered in May as the top 20 boats boasted
30 lbs and over, areas in which the bass were caught ranged from South-Bay area (Clewiston
area) up to the North-end like Dyess Ditch; Horse Island areas; Tin House and 2 nd -4 th point
(Buckhead Ridge) areas. Lures that were used were popping frogs/Horney Toads; swim baits;
senkos; flipping/pitching creature-style lures and some hard top water action such as a bang o
lure/devils horse and a zara spook. A lot of big bags especially this time of year is all about
catching that moon phase just right as the bass feed on the bream that are on the beds or
follow the bream into the shallows as they move into spawn, either way, it's a lot of fun when
the big girls bite. The bream action has been doing well catching them on ultra-light spinning
gear tipped with either a small live red work or crickets. When I bream fish with customers, I
am armed with both crickets and worms as everyday can be a little different, with some days
biting the crickets than worms or vice versa. If you want to catch some sharpies (small
fingerling catfish) along with some bream, they tend to eat the worms a bit better, all depends
on what my customers prefer to catch but it is nice that there are able to experience the fun
excitement of catch some nice big bream on ultra light tackle and provide a nice meal. Areas
that bream can be caught are mentioned above but don't rule out fishing the River along the
rock edges/ledges as these bream will move up to the edge to spawn and is great fishing
especially on windier days when fishing the lake is tough. To book you're next fishing trip on
the big O call 863-228-7263 or check out my website where you'll find that is always updated
with customer catches, current/past fishing reports, hotel recommendations, guide rates and
etc. www.southfloridabassfishing.com is the website for all your information to book the trip.
I'm old school/fashion, so if you have any questions just call, I always answer back in a very
timely manner and will be happy to answer any questions or concerns you may have. Thank
you to my sponsors: Toho Marine (St. Cloud, Fl); Mercury Marine; Real Magic; Tru-Turn hooks;
Lews; BnM Poles; Mid-South Tackle; Bullet Weights; G-Loomis; Maui Jim; Gill; Gene Larew and
Pradco Brands.